Did you know NASA's entire media library is available for you to use?
That's right, the
ENTIRE MEDIA LIBRARY
. Even better? All the media is free to utilize, both in terms of cost and copyright.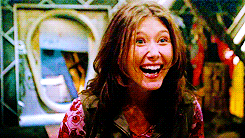 Can you imagine the potential for next year's Summer Reading Program? A Universe of Stories--complete with real photographs, sounds, and more of the ACTUAL universe! They can be utilized for decor, promotion, or even programs!
(What's that, lovely patron? You want legit space sounds to use in your stop motion project? Boy oh boy, do I have some good news for you!)
Happy exploring!